<![if !vml]>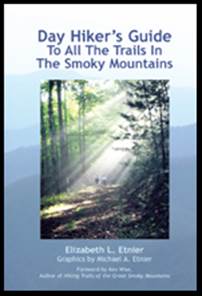 <![endif]>
About the Authors
Cosby entrance road closed June 22, 2015
Bear attack – multiple trails and campsites closed – June 7, 2015
Lane closures Newfound Gap Road – April 13 – June 15, 2015 and after August 15
Alum Cave Trail closed – May 4, 2015 - 2016 – Volunteers needed to help
"Day Hiker's Guide to all the Trails
 in the Smoky Mountains"
 By Elizabeth L. Etnier
Graphics by Michael Etnier
Want to hike all the trails in the Smoky Mountains? The Smoky Mountains National Park contains 522,000 acres of forested land that traverses the Blue Ridge mountains between Tennessee and North Carolina and may be accessed from either state. There are approximately 800 miles of trails in the Great Smoky Mountains (GRSM) that are officially maintained by the Park Service and may be used for horseback riding or hiking.
I have hiked all 800 miles of trails in the Smokies, and have written the Day Hiker's Guide to all the Trails in the Smoky Mountains to assist others who aspire to hike all the trails in the GRSM.  Currently, there are 151 maintained trails in the Smokies and I have laid them out in 75 easy to follow day hikes ranging from just a few miles to over 20 miles in length. I provide you with an approach to hiking all of these trails that minimizes duplication of miles hiked while ensuring that no trail segments, or spurs, are left behind. Indeed, if you follow my approach, you can hike all the maintained trails in the Smokies in a total of only 1060 miles! Although intended for the experienced hiker, this guide is helpful for the hiker who wants to go to a particular section of the Smokies and plan out a shorter hike that suits his level of endurance.
This guide has color-coded maps showing the hikes for each area and tables that list the trail sequence and total mileages for each hike. Included are a list of available car or boat shuttle services for the more remote hikes, a handy checklist of all trails, and over 30 color photographs of the Smoky Mountains, wildflowers, and historic structures in the Park. To download a working Excel file that will total your miles hiked as you complete and input them, click on this link.
Map and example of corresponding table for Cataloochee Area
<![if !vml]>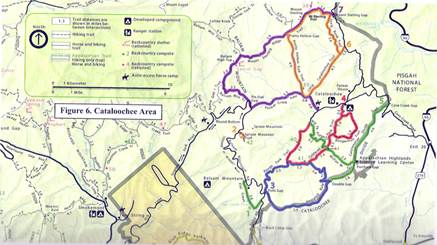 <![endif]>   <![if !vml]>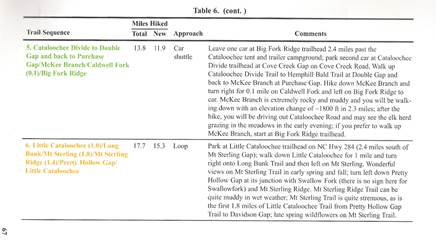 <![endif]>
Paperback, Third Edition, 6 x 9, Spiral-bound, 124 pages
ISBN 978-0-65-36764-4, $19.95 plus tax (where applicable) and S&H
Note that I will be out of the country from June 30 – September 15, 2015. I will check e-mail every 10-12 days, and will process your order as soon as I can. If you need the book sooner, you can purchase it at all Smoky Mountains Visitor Centers, as well as at most local outfitters.